FAQs
Click on one of the following topics for more information.
ARTWORK-RELATED QUESTIONS
Q. Do you keep my artwork on file?
A. We archive every art job that we do for our clients. This means that once we have your logo on file there is usually not a need to send it to us again. Dormant artwork will be held on file for three years. We can also make revisions and/or changes to your logo or add text underneath (usually) at no charge.
Q. What if I cannot get the artwork in the correct format?
A. Good news! We have a design team on staff! Send over whatever you have and we will evaluate and let you know what needs to be done. We will do whatever we can to make sure that your order is not held up because of artwork problems. In some situations, we can recreate your logo quickly with little or no charge. However, if your artwork is complex or we have difficulty reproducing it, we may have to charge you a small art charge based on the time spent fixing it. In those cases we typically charge $45.00 per hour.
Q. What if I don't have artwork?
A. We can usually work with you to create exactly what you need. But we also contract with experienced graphic designers that are available to create a design/logo for you. We just need to discuss your vision for your brand, and pricing. We're experts and are ready to help you make smart decisions that represent your brand well.
Q. What is PMS Color Matching and why does my artwork spec have PMS numbers next to the color boxes?
A. PMS stands for Pantone Matching System®. It is the standard color matching system that allows printers to choose a color without leaving it up to an individuals' subjectivity. Each color in the Pantone color chart corresponds to a particular number so that if you say your logo is royal blue, we can pick an accurate blue to recreate.

PLEASE NOTE: Because computer monitors display colors in RGB format, the color that you see on your screen may not be accurately calibrated to the actual PMS color chart. Also please note that PMS matching is approximate, and production comes as close as possible.
Q. What is the difference between screen printing and embroidery?
A. Screen-printing involves pressing ink through a fine mesh screen and onto the surface of a product, as shown in the image below.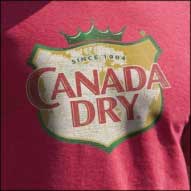 Embroidery involves stitching a design into fabric through the use of high-speed computer-controlled sewing machines, as shown in the image below.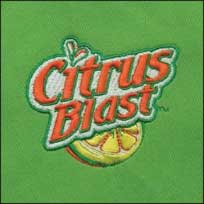 Screen Printing or embroidery will be used depending on the garment or product that you purchase, and depending on your budget and desired look. Before a logo can be embroidered, it must first be digitized. This is a technical term used to describe the process involved in programming the embroidery machine to stitch the logo accurately. Before a logo can be printed, it also has to be setup on a screen to print the logo accurately.
Q. Will I need artwork done?
A. There's no need to worry, simply e-mail your artwork to us, or upload it on the Quote Request page.
Our art team will professionally polish it for production – FREE!

We'll email or fax a FREE proof of your imprint for you to approve prior to production, to assure you that your message will be exactly right. We only proceed with production after we have your final approval.
Q. What kind of art may I use on my design?
A. Digital Files: Adobe Illustrator® files (vector art with paths) in an AI or EPS format with all fonts converted to outlines. This almost never works: JPEG / GIF / Bitmap images that you have dragged off of a web site or someone else has given you in a low-resolution format. We usually have to recreate these logos from scratch, which may incur artwork charges. Think of vector art as "the real thing" and JPEG / GIF / Bitmap images as a "snapshot". You can't change a snapshot if you want to make something a different color, or size, or location. But in the "the real thing" you can change any part of it to get the best possible outcome.

Please Do Not Do This: Take a small-size, low resolution/jagged image and change the name to have a ".eps" extension. This does not change the file type.

Please Note: Unsupported art file formats include QuarkXpress®, Pagemaker®, CorelDraw®, Publisher® and Freehand®. Microsoft Office® programs (Works®, PowerPoint®, Excel®, etc.) are not graphics programs and will not be recognized through the art acceptance process. If you are not sure if you have the correct artwork format just send it and we will let you know.
Q. What is the difference between vector and raster art?
A. Bitmaps are composed of pixels. Raster images are more commonly called bitmap images. A bitmap image uses a grid of individual pixels where each pixel can be a different color or shade. The following file types are ALWAYS raster-based: .jpg | .gif | .png | .tif | .bmp |

Vector graphics are composed of paths and use mathematical relationships between points and the paths connecting them to describe an image. The following file types are OFTEN vector-based: .ai | .cdr | .eps | .pdf | .ps | .wmf

The above file types can be raster, vector or a combination of both, depending on the contents embedded. Just because a file has an .eps extension, does not make it vector. Likewise, you CAN NOT take a .jpg and change the extension to .eps to convert it from raster to vector.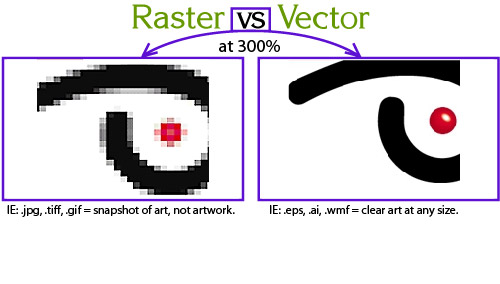 The image to the left above is representative of a bitmap or raster and the image to the right is representative of a vector graphic. They are shown at four times actual size to exaggerate the fact that the edges of a rasterized image become jagged as it is enlarged. However, vector images do not.

Bitmap images require higher resolutions and anti-aliasing for a smooth appearance. Vector-based graphics on the other hand are mathematically described and appear smooth at any size or resolution.

Bitmaps are best used for photographs and images with subtle shading. Graphics best suited for the vector format are page layout, type, line art or illustrations.

Wherever possible use the vector format for all your type, line art and illustrations and only use bitmaps for photos or images with complex or non-uniform shading. If the graphics application recognizes native vector files such as those created by Adobe Illustrator® (a filename with an extension of .AI), CorelDRAW® (a filename with an extension of .CDR), then use them first.

The EPS File Format If the graphics application you are using cannot read native vector files the next best thing would be to save them as EPS (Encapsulated PostScript) files. These are self-contained PostScript files, which contain the same mathematical descriptions as the vector files they are made from. Even bitmaps can be saved in the EPS file format. EPS files are supported by most all graphics applications. It is the most portable format for this reason. It is best to use EPS files for all line art and illustrations because they can be reproduced at any size or resolution and still display exactly as they were drawn. Use them wherever native vector files cannot be used.
Q. Where should I send my artwork?
A. You can email your artwork to: Art@IntegratedPromotions.com. Please call 585-382-3098 with any questions. We'll be happy to look at what files you have and help decide which ones are best.
CANNOT FIND IT
Q. I can't find what I'm looking for. Do you have other items that are not listed on your web site?
A. Absolutely! We have hundreds of thousands of promotional products and it's nearly impossible to keep them all listed on our site. So, please call us during store hours and speak with one of our knowledgeable associates who will research the item you are looking for and find the best prices available.
FIND IT FOR ME
Q. I don't have time, and would rather not mess with this. Can you help?
A. Absolutely! We're experts and are an extension of your marketing team. Why not have us take your vision, your audience, your budget, and timeframe, and come back to you with a group of products that will work best together? We'll give you some good choices you just need to contact us to discuss your needs. We're always here to help.
CUSTOM-MADE PRODUCTS
Q. I like an item, but it is not available in the color, shape, etc. that I want to represent our brand. Can you help?
A. If you have the additional production time needed, and are ordering a high enough quantity of the item, we can work with you to create a custom piece(s) in the colors, shape, design, that you're looking for. We've taken a photo of a founder's horse and buggy and turned it into a gorgeous 3D Pewter Award. We've taken a client's security cameras, keypads, and sensors and turned them all into stress relievers to hand out at tradeshows. Why not put our creativity to work for you? We'll make you look great. Guaranteed.
MINIMUMS
Q. Do I have to order a minimum number of garments?
A. If you are ordering custom t-shirts, embroidered apparel or even caps, we have a 12-piece minimum. All of our other items have the minimums listed with the description of the product.
Q. What is the minimum quantity that I can order of a particular item with my logo?
A. Minimum quantities are listed as the starting pricing column. However, sometimes manufacturers will have an Absolute Minimum quantity of 1/2 the listed quantity. This minimum usually requires a "less than minimum" charge and varies in amount from manufacturer to manufacturer. If you have questions concerning an "Absolute Minimum" please feel free to contact us at: CustomerService@IntegratedPromotions.com
phone: 585-382-3098
Q. What if I only want one (1) item without a logo?
A. We specialize in corporate merchandise and are not a retail site for individual purchasers. Although we would like to accommodate orders for one item at a time that simply is not our business. We make every effort to keep our minimum order quantities as low as possible, but sometimes when it comes to promotional products we are limited.
ORDER PROCESS
Q. How can I find out the status of my order?
A. Just call 585-382-3098. Please have your job number or customer name handy and we can answer your questions immediately including the carriers tracking information. You can also email your questions to: CustomerService@IntegratedPromotions.com
Q. What happens after I place my order?
A. You will receive an emailed digital art proof showing your artwork to size, color, location, etc. for you to approve. You will also receive a sales order showing the quantity, product detail, decoration detail, etc. to approve.

** Your order will not proceed to production without approval of both of these forms. **
This is to protect you, and to be certain that your order will arrive exactly as you wanted.

Then we can begin production. If we have any questions or need any other information from you, we will contact you immediately. We will keep you informed as to your order status throughout the ordering process. Our goal is 100% customer satisfaction.
Q. What if I have a Rush Order?
A. We have products that are available to ship within 24 hours. Call us today and speak with our associates who will send your order to the top of our "To Do" list and get it delivered to you ASAP!
PAYMENT PROCESS
Q. How can get credit terms? Can you bill me?
A. We offer open account status to qualified entities. Please note that it takes up to 10 days to process credit requests. If you need your items in a hurry you may prefer to pay by credit card for this order.
Q. How can I pay for my order?
A. Due to the permanent nature of producing custom products, all first-time orders must be paid for before shipping. You can pay by credit card (Visa/MasterCard/Amex), company check or any other standard, legally-recognized form of payment. Large organizations and government purchasers may use corporate purchasing cards or set up an account. If you choose to pre-pay by company check we cannot process your order until your check clears our bank.
Q. When do you charge my credit card?
A. We charge your credit card only after your ordered items are confirmed in stock, as well as your shipping fees properly calculated.
SAMPLES
Q. May I order a sample before I purchase a product?
A. Absolutely. We encourage you to see and touch your product prior to ordering.

That's why we will send you a FREE sample (up to $8) if you provide us with your shipping account number. Otherwise you will be charged to ship you samples. As for apparel samples, if you request samples for sizing, and they are not returned within 7 business days (we must supply you with instructions and an RA#), we automatically invoice for the full amount. We do reserve the right to inquire about sample requests and will refuse to accommodate any request that is abusive.
SATISFACTION
Q. What if I receive more or less than I order?
A. Because we produce items in bulk, we always try to run a few extra pieces in case there are quality issues. Our policy is to make sure that you receive the best items. Depending on the item that you order, that quantity can vary from 5% - 10%. We make every effort to meet your quantity exactly, but overruns are billable unless prior arrangements are made. This is a standard practice in our industry. Arrangements can be made prior to production to alter this policy and may require an additional charge. If you have further questions, please contact us.
Q. What if I receive my order and I'm not happy? Is there a Guarantee?
A. We do everything possible to prevent mistakes on orders. Before we begin production of your order you will see all of the details on your order and artwork via a Sales Order Confirmation and Digital color art-proof. Your order will not go into production until those two things are exactly as you want them.

We guarantee that we will ship your order exactly as you approved and that it will arrive on time and error-free. In the event that your order is incorrect we will replace the goods and do whatever is necessary to make sure that you are 100% satisfied with your purchase and your experience.

We have a 15+-year impeccable reputation for service and quality and take customer satisfaction very seriously. That's why our clients come to us again and again, whether they're a Fortune 500 company, or a local organization. And that's why when clients move to new jobs, they bring us with them. Keep in mind that we will be happy to send you a sample and encourage you to take advantage of this offer whenever possible.
SET UP
Q. What are set-up charges?
A. Custom imprinting your logo on an item requires printing plates, film, setting up the engraving laser or embroidery digitizing charges (just to name a few). These costs are independent of the actual costs of imprinting and are provided under the "Set-up" section of your order confirmation. Although these are one-time costs, for certain items there are re-set charges, which will also be noted separately. At times, there are no set-up charges, depending on the product.
SHIPPING
Q. Can I ship on my own Fedex® or UPS® account number?
A. Of course. Simply provide your third party billing account number during the Order Confirmation process and we'll take care of it for you.
Q. How do you ship my items?
A. We prefer to ship via UPS. The shipping method is determined by your in-hands date, location of your destination, timeframe and cost factors. Shipping is charged at prevailing freight rates by carrier and we can ship on your account if you would like. If freight charges are not specified on your Order Confirmation we will bill your freight post-shipment and may show up as a separate charge on your credit card. Our standard freight method is UPS Ground Service, unless otherwise designated.
Q. How much is shipping?
A. Shipping prices vary depending upon the product you are purchasing. We can get an estimate during the Order Confirmation process for you.
Q. What if I have multiple destinations?
A. Depending on the complexity of your shipping instructions we may have to add a per-location, drop-ship charge, which is usually $10.00 per location. Contact us directly for full details.
Q. What if the carrier loses my shipment?
A. We guarantee that we will ship your items on the designated day via the method that you have approved. However, ownership of the goods passes to the customer once we deliver them to the carrier. We will do everything within our power to help you with any situations you encounter. All of the major carriers that we work with have policies relating to these situations that you can investigate prior to placing your order and choosing your shipping method.
SALES TAX
Q. Do I have to pay sales tax?
A. Integrated Promotions is a New York-based corporation. Therefore, those clients who have their products shipped to locations in New York must pay applicable sales tax, unless you are a tax-exempt organization, in which case we'd need a copy or your non-exempt form during the Order Confirmation process.